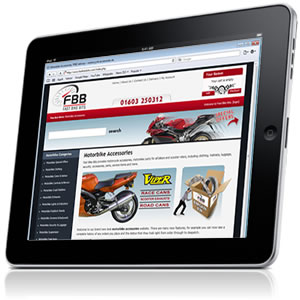 Featured Site - Fast Bike Bits
Fast Bike Bits are an online retailer of motorbike accessories for performance motorbikes and off road motorbikes.

Their website needed a visual overhaul and a replacement of the shop software to allow them to manage the website wherever they were.


Having designed FBB's original website we knew exactly how their needs had evolved over time and what would be required to modernise it. JShop software was utilised in providing the new base shop functionality and a set of 'rules' to automatically display certain features such as Bestsellers, Special Offers, Related Items, and Hot Products.
Click here to visit Fast Bike Bits Motorbike Accessories »