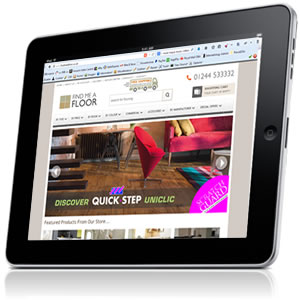 Find Me A Floor
Find Me A Floor are a new online retailer of high quality laminate flooring, carpet tiles, vinyl flooring and real wood flooring.

The website needed a bespoke floor area estimation system coupled to the ability to identify whether goods were sold individually or in packs and all priced by the metre.


With over 30 years in the flooring industry sector, the time was ripe to exploit their knowledge and trade contacts to provide the end user with a clean, easy to use system for choosing and selecting their flooring.
Enterprise class e-commerce software was utilised to provide the base shop functionality and a set of 'rules' to automatically display certain features such as Bestsellers, Special Offers, Related Items, and Hot Products.
Click here to visit Find Me A Floor »